what have you done ?
No it doesnt matter that Vatican apologized and then your holy self said 'sorry' – what is needed is a complete apology by the Byzantine king and if possible by Constantine himself .
They are dead by now ? ok, then can we have miracles….see , Paleologus will have to come in person and apologize for what he said in 1391….arrange for a miracle or two
And…make it fast…we'll check with the mullahs if that will do…..
How could you ever quote or even think that mullahs have a culture of violence….thats pig shit…which is blasphemy….and its completely outrageous….they dont have a culture of violence and thats it !!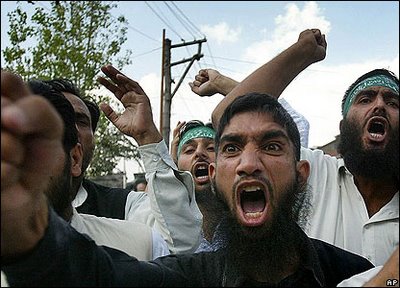 And until you and Paleologus withdraw the culture of violence statement – they'll burn those churches in Palestine , shoot Nuns in Mogadishu, fire AK-47s into air all across the Arab world, detonate a few suicide bombs in Tel Aviv, burn effigies in Karachi and Rawalpindi , kill a few serbs in Kosovo, loot a few shops in Yemen, down a few planes and bomb a few trains in Europe, have a few rallies in Washington, stone a few shops in Hyderabad , rape a few girls in Darfur , plant a few gas bombs in Chechnya and come friday will burn the streets from Cairo to Tehran to Dhaka to Jakarta.
You must be out of your mind to talk about a culture of violence, there isn't one your holiness.
Oh c'mon you must be kidding – there isnt a thing called free speech – I'll give you one Danish cartoonist's number – whole of Europe is local call rite ,neways check with him.
Culture of forgiveness…nah nah…they never say sorry for anything they do and your sorry doesnt mean anything to them – the only time they feel sorry is when a cluster bomb bursts right up in their ass.
Now now…lets not waste time sir…lets get to work on that miracle !!