Thilakan and Oduvil Unnikrishnan are notably missing from Anup Sathyan's Varane aavashyamund, but outside of those absences the film is a new generation Sathyan Anthikad movie. In that there is no suspense how it ends. Sathyan Anthikad movies are the Disney movies of malayalees – family first.
Now Sathyan Anthikad is one of the malayalam greats. It's no small feat to make good movies for decades, releasing a movie almost every year like I.V.Sasi did, and consistently maintaining an enjoyable standard of entertainment – movies are primarily that – entertainment. That's why we watch some Anthikad movies again and again – Ponmuttayidunna Thaaravu, Sandesham, Pattanapravesham, Mazhavilkavadi – classic Sathyan movies that while immensely entertaining have influenced our vernacular like few other directors' movies have with "thattaan thatti", "pavanayi shavamayi" and "njan ee polytechnic onnum padichittilla" all now part of our larger lexicon. Then there are new generation Anthikad movies. Innathe Chinthavishayam and Kadha Thudarunnu are perfectly ok movies, but I don't think any of us remember the plot or a single dialogue from those movies nor will the most reasonable of us watch those movies again. These aren't bad movies – Kichamani M.B.A and Big Brother are bad movies which we always remember from the trauma – these are Innathe Chinthavishayam and Kadha Thudarunnu are perfectly ok average movies we forget because of our indifference. Indifference is the hell where movies go. Varane avashaymund is a perfectly ok movie.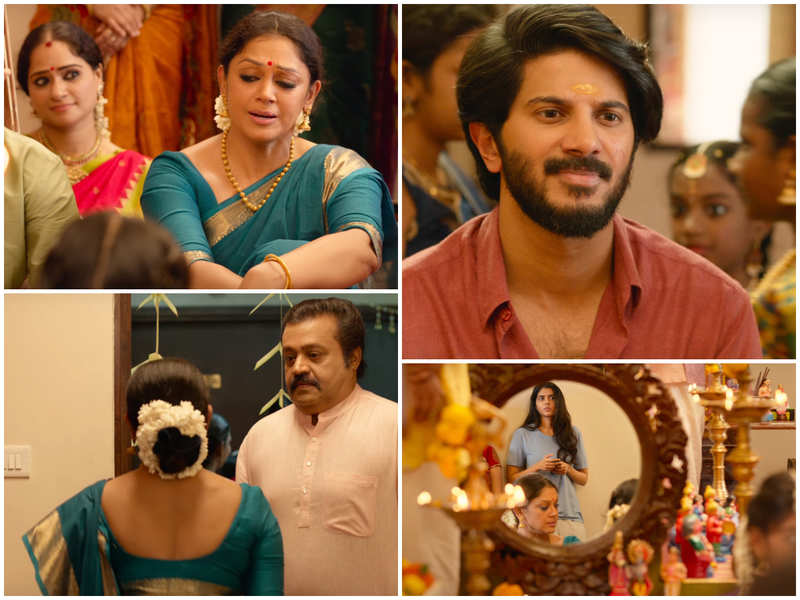 Anup Sathyan's movie in a style similar to Sathyan's appeals to a timeless creed that we, human beings, are essentially good. It's a feel good movie with no villains and characters with solid emotional baggage to pull at your heart strings – someone who lost both parents in an accident, a survivor of domestic abuse, a socially awkward soldier who has killed and has anger management issues played by Suresh Gopi. Now all of these interesting good-looking people end up living in the same apartment complex in beautiful Chennai and love ensues. Yup it all ends well.
Good: Suresh Gopi. I grew up a Gopiyettan fan worshipping his police roles but this is his funniest avatar, funnier than [Minnal Prathapan in Manu uncle]. I watch Njan Prakashan once in a while to see Fahad play P.R.Akash even though rest of the movie is a wash. Same is true for Suresh Gopi in Varane avashyamund. The movie is new generation and doesn't bore you at any point.  Casting in general is great – Urvashi, Dulquer, KPAC are great in their respective roles, Lalu Alex and Major Ravi as always act as themselves. Importantly Varane avashyamund settles the Shobana vs Urvashi question once and for all. One is probably malayalam's greatest lead actress who had to occasionally dance in movies, the other of course is Shobana who is a dancer wondering what she is doing in movies when she can actually dance a little more in that time. Only good thing casting Shobana in the lead role is that they avoided casting Manju Warrier. The other win is casting movie director Johny Antony as a shrink, anything that keeps Johny Antony busy and keeps him from making movies like Thoppil Joppan and Thappana is a win. The movie has nicely woven Chennai into the fabric of the story and is sure to make people miss Chennai even if they live there.
Bad: See this is not a serious movie, not at all. Shobana finds some excuse to dance, almost all characters break the fourth wall one way or the other with constant references to their previous movies which while fun shows tardy, lazy writing meant to appeal to family audiences and make money.
So now you would ask why spend time reviewing these movies when these are not serious movies. Why not review a classic like 'Z' which I recently watched. And I would have to tell you that I watched 'Kitchamani M.B.A' and 'Sound of boot' first day, first show and spend time reviewing Innathe Chinthavishayam and Red Chillies. Because why not.
Verdict: 2.5 of 5 stars. Good one time watch. This movie will not fill the emptiness you feel in your life lately, for that you may want to watch Mohanlal's Big Brother.